Dog Training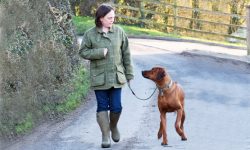 CURRENT WAIT TIME FOR NEW CLIENTS 6 WEEKS
Many owners resign themselves to accept that their dog will bark all the time, destroy the house, growl at people, jump up…the list goes on. This simply isn't behaviour you have to live with – for just about every problem you can think of, I can help you find a remedy.
I offer training sessions for you (yes, i'm not just training the dog!) and your dog to help you tackle any issues you might be having on a one to one basis, either at Just Paws or in your own home depending on your problems. I cover everything from basic obedience, to aggression problems, I also specialise in livestock socialisation problems. There is normally a reason behind every bad or unwanted behaviour and I am here to help you find that reason and work through it.
It is possible to teach old dogs new tricks, and to stop young ones learning them in the first place!
I don't offer classes, or group tuition as all dogs are different and things that work well for one dog, will be completely irrelevant for others. I offer value for money, practical skills and advice and if you follow my lead, I know we can make a difference to you and your dog's relationship.
I explain the reasons behind my techniques and most importantly the reasons behind the behaviours that the human regards as unwanted, in terms of how the dog thinks about things, so you can go out into the real world and start understanding what they are thinking of getting up to and why, I will then give you the tools to help them control their behaviours and choices themselves!
My methods are simple and easy to follow for both you and your dog, I don't rely on treats, or complicate things with devices either. My mission is to help you get your dog wanting to do the things you ask, for no other reason than that they love you and want to please you and work with you not against you.
That REALLY is possible!
I teach calmness. Your dog will learn to control their unwanted behaviours themselves, with gentle back up from you to make it easy for them. Soon your unruly pets will have self control and will choose to do the right thing themselves, because they want to, becasue it is the more gratifying calm and reasonable choice!
No more hauling them about on a lead with them strangling themselves, and pulling your arms out of their sockets, no more hanging off a harness, no more barking at other dogs, aggression, nerves, bolting away, chewing, not coming when called… the list goes on!
I really can make a big difference in as little as 1 session!
Training here at just paws is one a 1-2-1 basis 
I ask for a minimum of 2 sessions to be booked (pref a week apart) so we can get a good consistent start 
I have no space to start new dogs now until April I'm sorry 
Sessions are available weekdays only (whilst my son is at school) 
I cannot offer weekends or evenings at this time 
Initial session £66 inc vat 
Follow up session £60 inc vat
Half hour social sessions and group social walks £30 inc vat available once the initial course of 2 is complete if that is all that is required for the pup at that point 
Otherwise socialisation and downtime/Funtime is included into hour long training sessions 
If you would like to book your first sessions please let me know what weekdays are suitable for you 
Thanks
Helen merrett