Day Care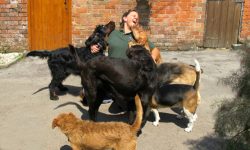 MINIMUM 2 DAYS PER WEEK POLICY IN PLACE
Please email helen@justpaws.co.uk with your dogs details and what weekdays you require in order to arrange an assessment and trial period
We offer day care for your dog here at Just Paws, which offers a fantastic and great value alternative to a mid-day dog walker. Your dog gets at least two off lead walks onsite on our private farmland with lots of mates to play with.
Instead of paying for someone's travel time to and from your house, with a tiny walk midday, why not drop them here on your way to work and pick up on the way home. No more chewing your stuff because they are bored, no more complaints from neighbours because they are barking.
Your dog will not be walked off lead in parks and in public areas where other dogs can cause issues, or your dog can get in trouble, and they will not spend the majority of the day stuck in a truck whilst others are picked up and dropped off. Our land is our own, and we don't walk anywhere else and the dogs are walked by people who REALLY know what they are doing!
During the day when not on walkies they have a secure yard area and a secure garden with lots of bushes to hide in, trees for shade, and a patio area to sunbathe, play and snooze with their mates as well as the daycare kennel room for much needed individual sleepy breaks to recharge their batteries ready for their next big adventure walk or to dry off from the last walk!
When you pick up your dog at the end of the day they will be happy, tired and ready to crash out on the sofa with you for a cuddle instead of terrorising you for a walk at the end of your long day at work!!
All dogs must have:
• An up-to-date vaccination card – including yearly boosters and kennel cough vaccination (to be given at least 4 weeks before stay unless a booster) Titre testing and Homeopathic Vaccination not accepted.
• Microchipped
MALES MUST BE NEUTERED, FEMALES CANNOT BE IN SEASON AT DAYCARE
• A secure collar with loop for tag. All dogs staying with us will wear a tag that states where they are staying.
All dogs must come for a meet and greet session to assess their temperament with other dogs and their recall off lead.
Dos must be happy in the company of other dogs and have good reliable recall to come for daycare here.
IF you are concerned your dog is not ready, I can offer one to one training where i can work with your dog alongside you to get them to a point that they can enjoy the Just Paws experience.
However naughty they can be, some just need a little encouragement and training to end their naughty ways!!! Once I deem them ready to board here, through training and socialising they can come to play!